Curbside pickup is only available at our Spottswood Avenue and Goodman Road locations.
J & Ds Croutons, Blue Cheese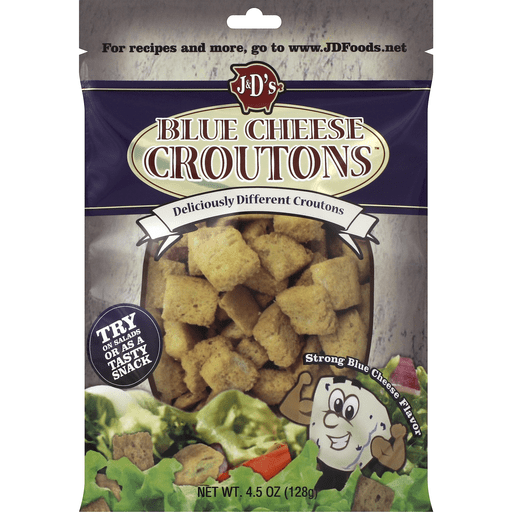 Deliciously different croutons. Try on salads or as a tasty snack. Strong blue cheese flavor. It took dedication, commitment and the consumption of massive amounts of cheese to make J&D's Blue Cheese Croutons a reality. Our sample workout regimen: 6am - eat some cheese. 7am - make some croutons. 8am - eat some croutons and even more cheese. Repeat daily - for over a year! - until the perfect taste of gourmet blue cheese crumbles in crunchy crouton form was achieved. If you love blue cheese, we know you'll be happy with the end result. The powerful taste of blue cheese really comes through, making then perfect on salads or soups, as a breading or a tasty snack. They're anything but plain! Get to know us! J&D's Foods is the improbable story of a couple of hungry guys (Justin & Dave) who won some money on America's Funniest Home Videos and launched a line of Deliciously Different Croutons. Made in USA.